Rain storm
April 25, 2010
The smell of rain is like must.
It's steamy and, humid, yet fresh.
Cascading down, from the clouds it busts.
When on the ground, it turns dirt into mesh.
The sound of rain is like a swarm of bees.
It's angry, violent, and scary
As the thunder rolls and the wind bends all the trees.
The destruction continues and creatures are wary.
The sight of rain is depressing and sad,
like tears falling down from the clouds in the sky.
It is annoying, irritating, and makes me mad.
When it's raining, and pouring, God seems to cry.
The feel of rain is wet and cold.
It's maddening, like needles piercing into the skin.
As dark clouds fill the sky, threatening and bold.
Take cover quickly, because rain will always win.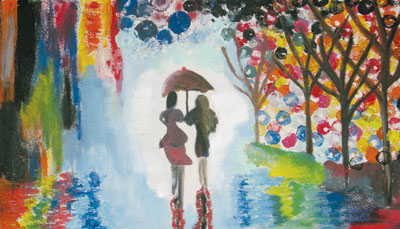 © Uzair M., Faisalabad, Pakistan