Every time
April 26, 2010
Escape from your reality in a mess of unwashed sheets.
You'll move from here in a few hours.
But for now, as you roll onto your side, everything follows you,
latching to the mattress you've so illogically made your home for the day.
Close the blinds and let your mind go.
Fall into and under bliss, let your mind dig into your unconscious thoughts.
Let your breathing slow, let your mind go.
Dream, dream but start out slow.
Let your eyes pulsate at the speed of something unknown,
as you venture into the unhappening.
Once upon a forever, you were safe here.
You escaped here.
You came here and you were okay.
Now, you come here, and you watch him walk away from you.
You watch him leave you over and over.
It's so calm, but at the same time, it's like everything's happening at once.
You can't lift yourself to run after him, because you've already let him leave.
You didn't mean to but he's gone.
So now it's just a theoretic replay, made live and real,
all inside of your head,
every single time you fall asleep.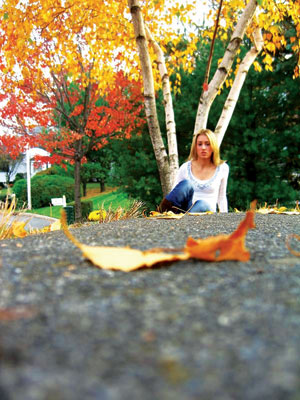 © Stephanie F., Garnerville, NY