So Far Away
April 14, 2010
You're so far away
Your love never fades.
I love you more than
You'll ever know.
"If only I lived closer"
"If only we lived closer"
Are our wishes.
I see you in my mind,
We're together there.
Talking for hours on end
And not running out
Of things to say,
Fill our days with happiness
Wish upon wish,
Star upon star,
I wish you didn't live so far.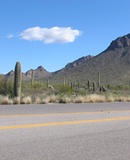 © Aleksandra K., Tucson, AZ