Do You?
April 19, 2010
What do you do when a 2nd chance
has been propelled in your direction?
Do you, In my case, hold it in?
Or let it out with fondness and affection?

Do you go to that one you hold so dearly,
begin to explain and confess why?
Or do you simply bite your tongue
and merely let out a whisper, breathing "Goodbye"?

Do you immediately engage in prayer
and thank the lord?
Or do you, like a perished fire
turn off the hose, and end you words?

Do you think back
to the start of the problem?
Or relapse like a drug addict
that's been granted the same pardon?

Do you run into the protection
of friends and family?
Or independently step out into the world
with the feeling of bravery?

The only way I can address
how to benefit from a 2nd opportunity at life.
Is live day by day, hour by hour,
dictate your life, and abolish strife.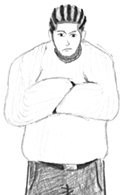 © Ryan W., Philadelphia, PA