I Wonder
March 28, 2010
I wonder about me and you.
Im just laying here thinking,
What would happen between me and you.

Maybe I'll get to see you smile everyday.
Maybe I'll see you along the way,
While I travel miles and miles.
I wonder

Maybe we'll be together forever.
We may never see each other.
There's a chance it could happen.
Oh, just wait and see.
I wonder

I remember that day!
And man, was that a day!
You called me out accross the field.
We walked to each other.

You asked me all these questions!
What's wrong? Are you mad?
All I could say was no.
I thought you didn't care,
Man, you sure fooled me wrong!
I wonder

Remember that other day?
Haha yeah, there's another day.
For the first time, our eyes met.
I treasure that moment,
I'll just never forget.

But then, it got so awkward.
I just had to look away.
That was our special moment.
I wonder

"Why am I wondering this?" you ask.
To tell you the truth, im not quite sure.
Maybe its because im bored,
Or because I can't sleep.
Maybe its because Im just laying here.
Or, it could just be this simple small reason:
Im just crazy for you.
I wonder

All I can do now, is just wonder.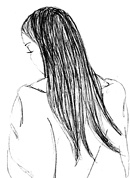 © Miranda B., Neosho, MO