Erratic Patterns
April 12, 2010
These thoughts that overwhelm my mind, this mighty pulsing in my head, they all have become so difficult to understand. This mask I wear to hide my truth, it matches not my soul, nor even my neurosis. What you see from me, it is rarely ever what you receive from the actions brought from my hands. Even for me, the true master of this inconsistent domain, the visions are far from crystal clear. Even now, I remain uncertain of any misinterpretations of my own raging psych.

There are many times at which my soul is consumed by a natural fire; it is an insane inferno of desire beyond any and all others. There is the presence of positivity and strength, their existence fueling my flames to grow to even greater heat and height. My desire for self improvement and the yearning for new knowledge become unrivaled in its ache; it forms a vortex of unparallel flaming potential; absolving possibilities. Although, despite the many virtues of this pyre, there is still an ominous shadow looming overhead; a converse to the greatest of my statements, one that may manifest itself as the devil's heart born in us all. This darkness may lose control' that unguarded might would wildly and burn all of existence to ashes; this fate may be inescapable, and its fury will condemn us all into an eternity of instability and suffering.

Other times, those far more common, I feel fatigued by the world on my shoulders, and weighted by the sudden frosting of the apathetic season, a winter of absolute nihilism. I require an intense hibernation, my desire is for learning the secrets of my mind in a slow and steady pace; my purest peace. Sleep is my cold comfort, and those new thoughts I gain are my frozen brothers, contemplating the mysteries of this dystopia is the key to our bliss. The friendly will of this scholarly potential born from a blazing passion sets in motion truth, controlled and understood. But alas, here there is a second face as well; a far superior tormenter, an ice whose cruelty overshadows the hateful flames of malice. The chilling breeze tears me down relentlessly; its agonizing ruthlessness will freeze me where I stand. This blizzard of despair will rip apart our love, and decimate the life we cherish; the world will become barren of all hope.

While there are to halves to every whole; their meanings are always the same. No matter how they diverge in form, or disagree in methods; power is equal and opposite of itself, and every other. Neither side will take my soul. No demon shall bring me to my knees. No virus burning within shall end my struggle. I am one man who holds the entire world in his grip, every side of every spectrum in creation. And yet, I am still a man, a man like any other; just a soul who wishes only for control.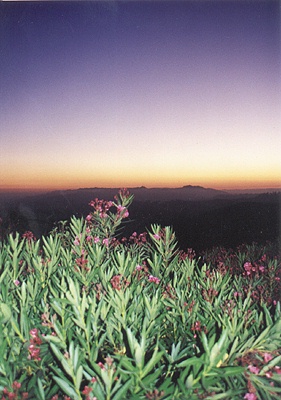 © Michelle L., Suffern, NY