Forgotten
April 11, 2010
Forgotten

That night I took you outside
of the place that we had spent our winter nights,
and I let you know I had something I needed to say.
The clouds hovered above us,
blocking out the stars.
I looked you in the eyes
and told you the only thing I could,
that I was in love with you.

If I could,
I would do it again,
everyday if you let me,
fall into you with my eyes closed.
And when you kiss me,
it's like spinning in a merry-go-round.
I lose my balance every time.

I still wait for you,
to notice me in a crowded room
so I can gaze into your dark brown eyes
and hear your voice,
the one that leaves me breathless every time.
Because with you,
I no longer see in only shades of gray
Colors protrude from my eyes
Just like a photograph twisted into color.

I think of the way your hand held mine,
like two pieces of a puzzle
perfectly linked together.
Every touch would leave me trembling for hours.

Now,
I still draw hearts on paper and fill them in with your name,
because you take up all of the space
inside of mine.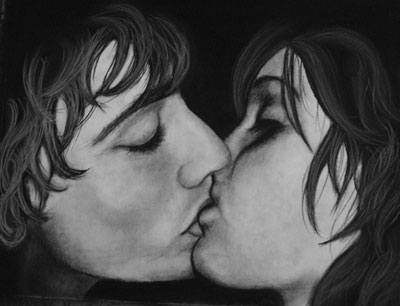 © Anna Y., St. Robert, MO