Falling Shooting Star
April 8, 2010
You can be the sweetest song,
and make my heart soar.
You can be the most traumatic accident,
and leave me confused and broken.
You know how to make me smile,
and break me down the next instant.
You words lift me up from the ground,
and send me spiraling back down.
With all that you do, I can't leave you;
I'm addicted to you like a drug.
That's what your love is, a drug to me;
It's bad for my health, crippling me day by day.
I can't escape, I don't want to, I need to;
It's taken over my system, controlling me.
You can be the nicest day:
Perfect weather, calm atmosphere.
You can be the most destructive disaster,
shattering me and everything I ever had.
Set me off like a bottle rocket,
See how long I last.
Cut me up like a pretty paper snowflake;
See how beautiful I can be without you.
I'm letting my pain be known, so you see,
how these things have come to affect me.
You can be as breathtaking as the sun rise,
leaving me in awe and wonder.
You can be as devastating as the loss of a child;
something no one can recover from.
I can't stand your presence at times,
yet I can't stand to be away from you.
Your words are the syringe,
your love is the heroine;
Silly isn't it, that something so amazing,
Can hurt this much?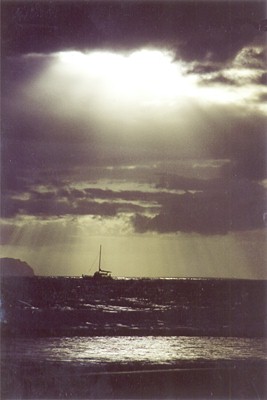 © lily H., Kekaha, HI