Morning Ramble
April 8, 2010
The mists are sleepy, barely moving, whittling and burning the elm tree,
Making it eerie, its creeping branches haunted by a sun struggling to rise.
The morning's breath rocks sweetly over the long and lonely cornfield,
And now the mists cling low to the valley's ridges,
Just like the bruise-colored thunderclouds,
Scudding across the afternoon sky in autumn.
They cloak the gently sloping hills and throb against home,
Where mountains are carved cleanly out of the sky,
And drop down rocky and razor-sharp to the sun-baked ground.

The river's a veined band strapped between the banks,
Hidden upstream by a curtain knit of trees swathed in the morning fog, dripping with it,
Struck through by the coincidental beam of sunshine.
A few trees stand tall and noble, irate, steely church steeples,
But most lean in, crooked, curving, cruel talons prepared to pierce the river.
The morning sky is split in half by two arching birds,
Swooping along the water's curve, cutting the sky in harmony,
Matching each other beat of wing for beat of wing,
And when they cleave apart they strike me in two,
But just a tear of bone-white flight playing over air,
And they fall back in step together- all refound.

Sitting on the craggy planks of sunshine reflecting off the water,
Stacked from the other bank to mine, surrounded by deep breaths of blue and green,
There was a blinding white, and honest, clean-cut brown, and I plunged in my hands.
I took the river's pulse, felt it stream through my earthen fingers.
For a breath, I caught it wafting in the breeze and trickling down the hills,
And then I lifted my hands, splashing clouds of water on the rocks,
And I knew I was neither lonely nor alone.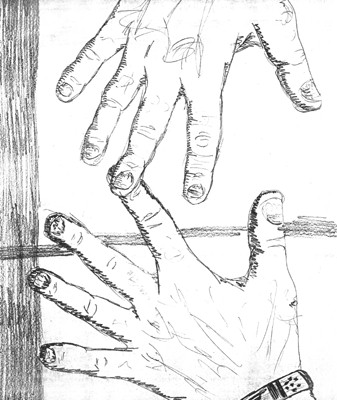 © Katie T., Hull, MA