The Loner
April 9, 2010
The Loner.
He sits in the corner of the lunchroom,
while people taunt and shout those nasty names.

Walking down the halls is like walking through hell.
He sees demons wearing football jerseys.

School ends. He walks home, hoping the angel will
save him from hell.
With her, heaven seems to be within arms reach.

There she is. The definition of beauty.
Her hair curling in perfect spirals.
Her eyes, like the early morning sun,
shine like the stars just before dawn.
He loves her.

They walk home together, shoulders almost touching.
He feels the spark, but does she?
"I love you."
She looks at him. He's staring into her eyes.
She gives him that out-of-this-world smile
then rushes away without a word.

The Loner.
He walks home.
Looking back, he sees his heart lying on the sidewalk,
the crows prodding at it.

Through the doors of his broken home he walks.
Daddy's at the "other woman's" house.
Mommy's popping pills and drying out every beer bottle in sight.
No need for goodbyes.

He walks into his room and looks in the mirror.
The scrawny, pathetic nerd looking back repulses him.
He eyes the knife underneath his bed,
then decides to go to sleep.

Morning comes.
The angel wakes.
As she walks through the halls at school,
she doesn't seem to find him anywhere.

Little does she know he died today.
Little did he know the three words he said to her, she was going to say.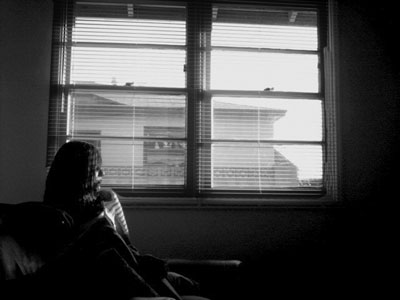 © Roxana R., Tustin, CA