Oh Lord We Have Sinned
April 7, 2010
Huddle close my friends,
Even though we can't see,
You know they are close.
Smell the sweat of your companions,
The blood of your enemies.
Feel the sand beneath your boots,
As you race time to save those you love.

The moon calls to you,
And is our light and path.
Screams may chill you,
Fire may scare you,
But whatever happens,
I am always here to protect you.
The ground shakes with every bomb,
The sky lights up as fire decorates the black void above.
Close your eyes,
My friends,
The sand storms are blinding.

Don't let them see you cry,
Your faithful friends will find you.
The heavens will open,
While Saint Peter welcomes the souls of the ones who have suffered.
Don't let them see you shake,
Your life is at stake.

Fear will tear at your soul,
Hate will eat at your heart,
Love will drive you on.
Pray,
My friends,
For your saftey,
And your success.

Lady of Victory,
Help us and hold us,
Guide us through this hell hole that they call Iraq.
Let us return unscathed,
And let us be stronger than when we first arrived.
Let the sand in our boots
and the blood on our clothes
remind us who we are.
For we are Americans
and we are proud
and we are free!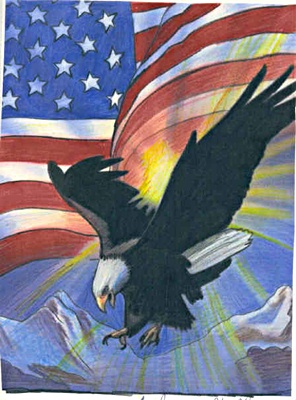 © Andrea G., Middle Village, NY