Russet Butterfly
April 1, 2010
A lithe young wood nymph rests her weary head
On caramel arms folded over a pillow of vines and moss.
Her back presses against the sunbathed bark
Of a tall, twisting tree, its leaves reaching skyward.

Sunlight beams down on her, lighting up her skin
Drops of gold spreading on her cheek like a liquid tattoo.
Her translucent wings glow, rays slicing through them
Illuminating their intricate veins and creases.

Thoughtfully, she watches, her pupils glowing like emeralds
As miniature butterfly flutters close, nearing her face slowly.
A breeze sweeps the wood nymph's russet hair back
And the butterfly hovers, emitting a warm light.

With a another firm flap of its wings, the butterfly sets off
Drifting on the warm wind that billows through the forest
As the nymph's tattoo spreads over her skin and tightens
Compressing her as the wings shrink and her hair retracts.

In her place flutters a butterfly with golden wings
And a thin, graceful red-gold body with reaching feelers.
Pausing only to alight on a leaf of ivy, the russet butterfly
Whispers its goodbyes as it flaps away to join its companion.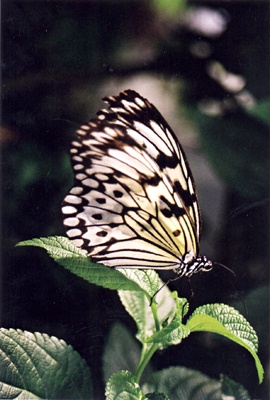 © Courtney G., Rocky Hill, CT