D-Day
April 1, 2010
The boat made of metal, like a giant lock.
Climbing inside, I feel the boat rock.
As I look at the beach, I feel my heart stop.

I feel my legs shaking, I can't really stand
I think about my wife and kids then remember… I'm a man.

I hear an explosion, cold gun in my hand,
I fall off the boat and taste wet salty sand
It takes me a moment to realize, I hit land

As I hear the bullets flying, someone is crying,
I know that people are dying, but in my mind I am lying.

I start tumbling and diving with my mind on surviving.
Looking to the left I see my brothers fighting
Ahead, the bunker where I know my enemies are hiding.

Beside me the colossal, concealed, strong machine
For me a haven, but to them, like Satan.
The tank was like a beast and it needed to feast.

My commander calls me over as a game of "Red Rover"
As I run to him, the trenches get lower.
I see bodies dropping, carnage galore.

Enemies before me, they are in sight
I get up charging, with all my might.
Metal flying, like it was a kite.
The smoke clouded the sky as if it was night.

I jump out the mess, I feel warmth on my chest
I fall to my knees, trying to catch my breath
I look down to my hand, now all a mess.

I remember my family and nothing less.
I look up at the sky and take my last rest.
My eyes get lower, because… for me, the D-day is over.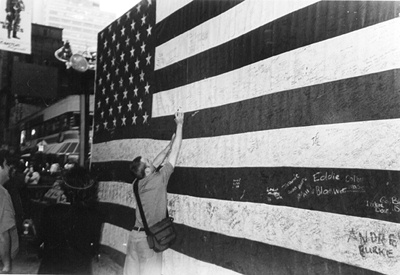 © Kyle M., Marblehead, MA