What I Saw In Her
March 31, 2010
Dark, cold, stormy nights,
Oh, how it gives these people the frights.
I can only stand here and laugh,
Looking at yet another graph.
Then, with a smile on my face,
I fall over.
I fell happy all throughout the fall.
Away from this oppression,
Away from this imperfect world.
Now I'm gone without a trace,
As if in a land rover.
It would be the happiest sight I saw.
No signs of depression.
Especially when I see her.
She makes me racant my sins,
Love all when I usually want to destroy all,
Takes my anger in shackles and chains.
Yet I always feel these pains,
Of not being able to ask her
The one thing I've been dying to ask her,
Afraid of what she would say
Afraid of being just friends,
But sometimes I think,
That's all we will be.
I never want her to be mad at me
But I want her to be free
Look at me
I'm a sad sight to see
So I go back to my perfect world
And hope to see her in it
I hold my heart
Under a vault of locks and keys
But as soon as I see her
My defenses might as well be cheese.
Why can't she see,
That I want her to be with me?
Just wish she could see in me
What I see in her.
Sometimes I think she can do so much better.
She was my first poem,
And my last.
My great escape
The one person I would change my entire image for.
If I could.
She saved both my heart and soul
So I don't have to wear this crown of thorns anymore.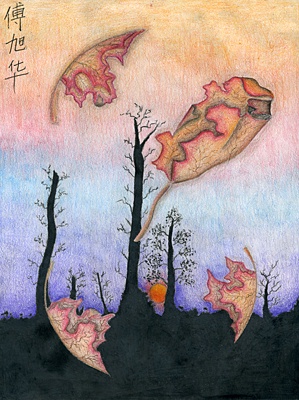 © Becky F., Sacramento, CA