The Price of Relief
March 29, 2010
As I stare down the railroad, the clock strikes nine. Just one more hour. Just one more hour until my struggles can be over. In one more hour the train will make its way and crash into my pain and take it all away; I never liked this life anyway. Consequently, every girl's nightmare has become my reality and I cannot handle it. Why has it come to this? Is this what you really want? My heart tells me no, but my head tells me go. I cannot handle this; why is my life so cantankerous?
Nine-fifteen, just forty-five minutes left. Is it because you are weak? No, I am just not strong enough. I cannot pretend to be ok when I am not. Everyday I'm haunted by his formless face. I can still smell him, taste him, and feel him. The memories of his eyes burning through my flawless skin, like acid, ready to steal my innocence in seconds. Flashbacks of his violent touch and my desperation for salvation that never came and I can't accept it. I won't. I should not have to. This repulsive scandal is exclusive, and to live with this dreadful secret is unbearable. The process of staying alive under these circumstances takes more dedication than I can produce and I completely surrender.
Nine-thirty, my last half hour. What a shame, they will say. This girl was such a waste of a very pretty face, what a shame. If only, there was someone there to stop her. The alternative is accessible but it's just not what I need; I yearn for peace. Part of me wishes someone were here to stop me, but that someone has ignored seventeen of my phone calls. Call twice more, oh God, so much pain. There has been too much pain for you to, also, take him away. I've tried to assess what I have done wrong, why he has turned his back to me. In regards last week, I was the definition of his needs, and now he's telling me that he needs some time to breathe, oh my love why did you leave? Just pick up the phone and stop me before tragedy takes over. Such a shame.
Nine-forty-five, so damn close. I can almost taste my relief. Not to have to deal, or think, or to feel anything anymore; this is the price of my relief. Look at what you have done is all I am thinking, always, look at what you have done to me. If only you had let me be, if only. Why did you choose me, out of all people I did not deserve this. Did you have no compassion? Do you still have no remorse? This is what you created; this is what my life has become.
Nine-fifty and I am screaming it now- Look at what you have done, just look! The rain is coming down to hide my tears of hopelessness and the thunder is roaring to cover my screams of despair. I am so pathetic, an absolute rueful, disheartened story.
Nine-fifty-five, I am almost there. I experience a revelation- I am alive at this moment but inside I've been dead all along. Nine-fifty-six; I can see lights in the distance. I can feel it coming towards me, hear it calling out to me. "Come girl," it says, "come to me. This is what you want; this is just what you need, so come girl, embrace me." I take an irregular, awkward step towards the train, and another.
The time transitions to nine-fifty-seven, I feel my phone vibrate. My love, what is wrong, you called me nineteen times, why do I hear a train? Nine-fifty-eight the train is right in my face. Nine-fifty-nine I say goodbye. I hear a screamed, "No!" on the other line. I take my last step but it's not toward the train that my feet have taken their place. Ten O'clock and the train pass me by, leaving me here alive. Exuberance takes over, he saved me.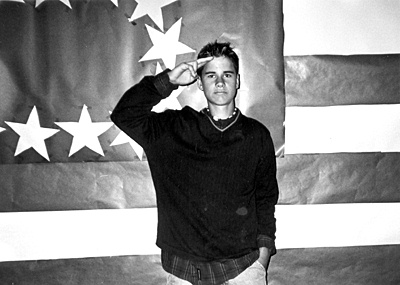 © Corey K., Highland Village, TX