Thought
March 13, 2010
"I think," thought the man as he walked down the hall,
"That I can be something, although I am small."
He knotted his tie and he breathed very deep
as he walked out the door and stepped onto the street.
He lived in a place that was constantly changing-
perpetually moving while rearranging.
With so many things that could get in the way,
it was harder to travel with every day.
The man leapt over cities of thought and of song
and he mazed through some grapes as he traveled along.
He saw many things while meandering 'bout,
but he constantly thought of just breaking right out.
His big dreams were bigger than where he abode
so he searched down the path and he plodded the road,
but nothing could water the seed he had sowed.
He suffered for days upon days without end.
He'd never prevail, he'd always pretend
that he was someone else or he didn't exist,
and he'd convince his mind till it died in a twist.
Until suddenly he descried in his sight
at the end of the road a remarkable light.
So he ran as the wind through a current or wave,
and he suddenly felt so immeasurably brave
that he flew out my mouth with the flick of my tongue.
At a wonderful moment this man had been sung.
Then the light bulb went off and the planets aligned,
for this man was a thought that came out of my mind.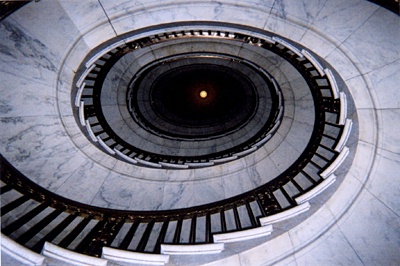 © Kyle T., St. Joseph, MO