Goat Man
March 8, 2010
My dear Goat Man,
with hanger and suit in hand,
You chase away balloons from this once sweet land--
leaving no playground, only dry metal cities and red crispy sand.

I don't want to grow up!
"Be an adult," he says, handing over a coffee cup.
"Stop acting like an overgrown pup."

He hands me somewhat masculine stilettos,
Feminine, but not too sexy or sleek--
"You wouldn't get much work done w/out them, with men always pinching you cheek."

He tells me to be a good girl and marry a nice boy:
"Be pretty for him--and dutiful and coy,
don't ever let him tire of you, like some cheap, one-hit wonder toy."

Keeping Goat Man's wise words in mind,
I turn, leaving my dear friend behind--
and I go out into the dry world to see what I can find.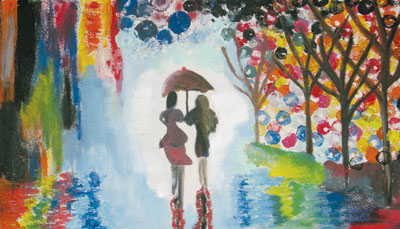 © Uzair M., Faisalabad, Pakistan