Teddy Troubles
March 8, 2010
She said its only fair,
I did my chores,
And want that bear!

Her bright eyes shone,
With such glee,
"Please, please" Mommy he loves me.

From the window
You could tell,
He must have come from a wishing well!

With button eyes,
And a nose to match,
In rose red ribbon and a patch!

A gift of worth,
A gift of value,
She held teddy always ready.

As the years drifted by,
She got tall,
While he stayed small.

As her world grew wide,
Teddy tried and tried,
To understand the reasons why.

She would lock him up and away
When her friends,
Came to play.

Then one day he found himself,
In a box at the back,
Tightly packed.

His tiny eyes, heavy as lead,
Torn and worn, there he sat.
With fur tangled and tossed, covered in mats.

Then one afternoon, an aged hand, with wrinkles through and through,
Held him high and whispered low,
'It is all okay, don't be afraid."

More to herself than to him,
She smiled wide, and showed that grin,
The one she had worn so many years before, in the window of that store.

Then without another sound,
She passed him down.
The hand that reached to meet was not so weak, strong and soft against his cheek.

Another generation has begun.
Another person to share in the fun.
He is older now, than he was before.

But nothing could bring him more joy,
Than seeing her face just once more,
Than seeing her face, aged with grace.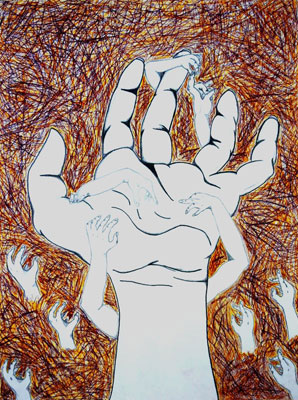 © Ariana R., New Orleans, LA