Sleeping Ocean City
March 8, 2010
I watch the glowing moon with reverie;
as the distant ocean pounds to shore.

My family sleeps undisturbed as I think to myself,
"What a beautiful paradise."

The humid air seems to kiss my skin;
the midnight sky greets me.
I close my eyes as senses open
to the sounds of a Sleeping City.

The roar of the ocean,
to the sigh commencing from my lips,
the occasional bark of a dog,
and the constant sound of cars,
make me ponder the serenity
of a quiet night.

My hazel eyes absorb the breathtaking view
of this Ocean utopia
I am beginning to love and respect.

Small bursts of light
greet me from other windows.
The balconies lay chaotically strewn
with damp swimsuits and discarded towels.

I think to myself,
"What a peaceful paradise."

I am quiet.
Soon midnight fades to dawn.
I can see out of the corner of my eye,
my family awakening.

I sigh to myself;
As the city transforms into day.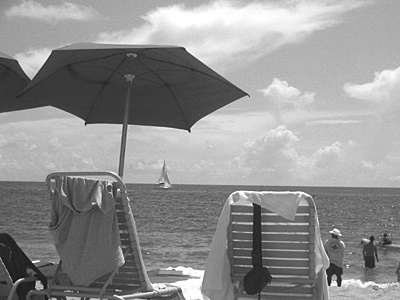 © Emily O., Boynton Beach, FL