One Car's Journey
March 8, 2010
A little white car, pristine as snow,
putters down the highway.
Billboards attack it with their messages:

"Jesus is the Reason for the Season"
"An Unborn Life is Still A Life"
"Vote 'Yes' on Ballot 1"

Bombarded with opinions,
the little car is unsure which are its own

"Taxi or Hearse? Choose Your Ride"
"Genetic Engineering is the Future"
"Help Those Less Fortunate: Give to the Poor"

Frantically, the car searches for an exit.
It needs to find its own opinions.
Outside influences cannot dictate what is inside.

An open dirt road,
a stretch of pure blue sky,
no billboards.

Now the little car can think.

Although the car gets dusty and dirty on its own path,
it can make up its own mind
without invading influences.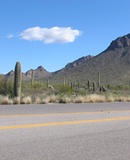 © Aleksandra K., Tucson, AZ