Becca
March 18, 2010
I.
we were awkward
bears at the retreat, fumbling messes:
i, too scared to breathe, learning from
killer whales about suicide and abuse:
whereas you, one year under your belt,
were slickly confident, yet quiet. awkwardness
being your step instead of a falter
we slapped hands and faces, grumbling
at hot coffee, and a quick exchange of schedules:
"Bio?—Bio"
but did not know mama and papa would unite

II.
"i like
can i touch?"
her legs, crackling rivers of veins
carry throbbing blood that makes mine boil.
how i wish to dip my fingers into that varicose
pool, and nuzzle my cheeks against her landscaped thighs,
with braille etchings across her calves; ivory legs that are my
comfort, my aphrodisiac.
you mime vomiting, but I know you agree:
our teacher's legs cause my boat to float on the sea.

III.
i've often wanted to try and touch the light
from the projectors above us when we're in
the theatre; it is all so hush, so uniformly dusted, and
the moment as the lights dim is silent. we all sit rapt
and we're forever in that moment, that forever waiting
for the show to begin, for the images to beguile us
on the silver screen. the audience lies hush, dusted.
we think of the green broiling hills afterwards—
these, these are our days of summer.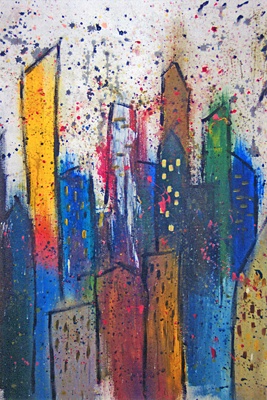 © Chase C., Centerville, OH