Vanilla Twilight
March 22, 2010
As the sun sets, my sky is vanilla, almost edible.
The sun, bright as butterscotch, a luminous figure.
Twilight approaches fast and dusk is near.

As night turns to day, I sit and reminisce of you.
When the day is done, I will have nothing else to live for….until tomorrow.
Well the clock is ticking and I'm waiting over the hillside, to see you before the day fades out.
Do you come, or do I stand on the hilltop waiting?
If you don't come, at least I can lay back and inhale the last essence of Vanilla Twilight.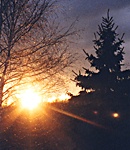 © Christy S., Germantown, NY