She'll be a sliver
March 21, 2010
Isn't she beautiful?She sure is.
She looks like a model, but she ain't real
You're boy would love to cop a feel
honey, you'll never be her.Give it up.

Every girl wants to be her
every boy wants to be with her.
she is flawless
can flaunt it
she has the confidence you want.
you can't be her, so give it up.
now you are wasting away on the floor
from the vodka you kept in your drawer
just in case.
you plan on making yourself pretty.
pretty in an insane asylum way.

So you eat once a day,and start to fade away
Smoking becomes your favorite habit
Along with tanning every day.
The sun burns your heart and turns you to false leather
Just like her Louis Vuitton purse.

Isn't she gorgeous.She damn sure is.
She looks like a model, and she's happy all of the time.
sweetie, she's doesn't exist.
you can't be her.
give it up.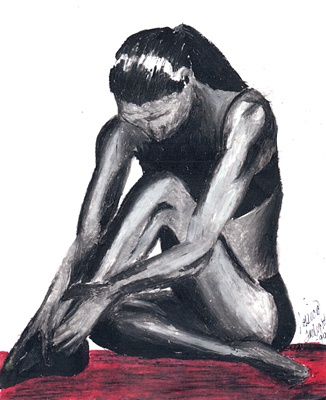 © Jessie Y., Ahwahnee, CA