The lonely raindrop
March 25, 2010
There was a raindrop.
Just one little raindrop, alone in the sky filled with clouds.
He tried to hold on with all his might!
But he fell....
The drop lasted a lifetime, everything flashed before his eyes.
All he could think of was that he was never given a name.
It wasn't fair! he was going to die just a little raindrop.
He began to cry as he almost reached the ground, ready for a splattering death.
But he hit something fluffy and it hardly hurt.
-grass-
"man i'm one lucky raindrop," he thought.
He looked around and to his surprise: he wasn't alone!
This had to be the happiest moment of his entire life!
"whats your name?" he heard a voice say.
A discouraged look upon his face was showing. "um...It's..Um," he tried to say as he studdered.
Suddenly, SPLAT!
A shoe swept him away.
"Poor little raindrop," said the voice, "I mean he didn't even have a name."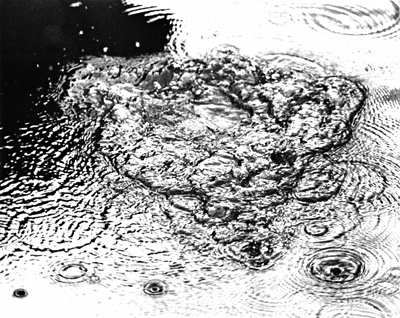 © Christina L., Great Falls, VA