Light vs Darkness
March 25, 2010
Some view the world as light vs dark.Its only until the cold of night do your dreams take flight
fears and past scenes, reality and dreams fill your brain with an endless strain, washing away your newfound pain like the drip. drip drip of an April's rain.

Trapped and bound the darkness surrounds you, numbing all feelings and clouding the mind driving the person insane, one dream at a time. It's almost over now the pain you feel, watching your old self like a 1950's movie reel.

By embracing the darkness you are free. Free from pain and anuguish, from the horrors of the world. The darkness shields you as light unfurls it's wings and seeks to retrieve you.

Embrace the darkness or become broken, to old and weak that you have no emotion. Whats all that commotion? It's the sound of battle as they go to fight

Light vs darkness... what a beautiful sight but the question still remains take the beauty of darkness or the glory of light?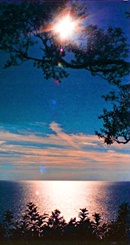 © Crystal B., Gresham, WI