My Last time
March 24, 2010
I remember freshly cut blades of grass.
I remember wondering how long pregame would last.
I remember going to the fence with my friends.
I remember just waiting for that night to end.
I remember the next day was thanksgiving.
I remember being thankful for simply just living.
I remember an old brown pig skin.
I remember the love for the game which I had fallen in.
I remember the 22 boys who united as one.
I remember us not stopping until we had won.
I remember that final whistle blowing even though it felt the game had just begun.
I remember that day because this was a game we hadn't won.
I remember the locker room full of sadness and defeat.
I remember thinking "maybe this was just an unconquerable feat".
I remember 22 grown men, and we were crying.
I remember feeling that a part of us was dying.
I remember this day a great part of my past.
I remember that, that game had been our last.
I remember 6th grade dreaming of this day
I don't remember it ever feeling this way.
I don't remember losing my last game
I don't remember acquiring all the fame
I don't remember celebrating on the 50 yard line.
I don't remember seeing 58 red helmets shine.
ALL I remember is that this was my last time.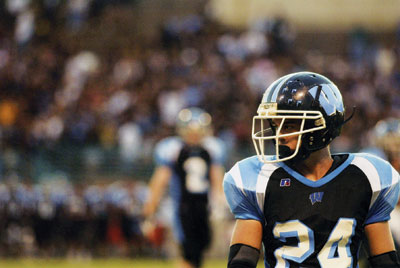 © Graham S., Bethesda, MD