Telekenetics
March 7, 2010
You ask me to pass you the salt, one April day at lunch.
Accidently, I do without even touching it. It slides across the table,by itself.
Startled, you jump up. Your purse falls off your chair. But it does not hit the paved ground. My hand out-reached, it floats in midair, perfectly still.
You gasp, choked for words, your face turning red.
I am just as startled as you are.
I don't know how this is happening.
It was just like a reflex.
Still gasping, you run away, your high heels hitting the pavement, as fast as they can.
You run away from me.
My shirt now moist with perspiration, I let your purse fall to the ground, hoping no one else saw those events.
Suddenly, my stomach sinks, and I feel dizzy. All around me, everthing I see blurs. I try to stand up,but I fall over my chair like a tree that has been cut down.
"Somebody call that kid an ambulence!" I hear someone yell, just as all goes dark.

I wake up in a hospital bed, white lights glaring into my eyes.
Doctors and nurses crowd around me like a flock of crows.
I begin to sweat; and panic registers in my brain.
"I am in the E.R.!" it screams.
I breathe faster and faster, only gasping.
"Hold on, son." I hear a doctor say.
But my vision grows sharper, and oneof the doctors scream as my I.V. needle (seemingly)
lifts itself from my arm.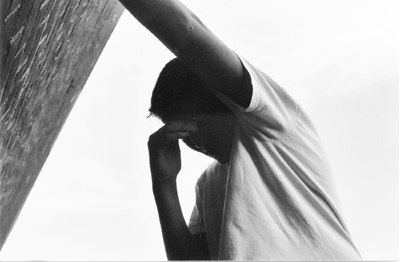 © Dillon O., Pompton Plains, NJ