The Birds Got Shot
March 16, 2010
I saw the day
The birds all got shot.
The melody died off
And the horizon went blank.
The rooster never crowed
Since the sun never rises.
Even the crows have all
Flocked away.
You see,
No one wants to be here
Not you nor I.
I saw the day
The birds all got shot.
I saw the man
Who pulled the trigger.
His face was twisted
And his eyes reflected
Empathy.
He sold his soul to the Devil.
I could tell, he looked youthful.
I saw the chicks shot from the sky
And I watched as the tumbled onto
The frozen ashphalt.
I watched from a distance,
I watched helplessly.
I felt their screams
Vibrating through my body.
I felt as all the hope
Evacuated the world.
As I passed others on the darkened roads,
I saw faithless faces walk right by.
The canary cage is empty
And the Bible pages are blank.
I saw all the faith get shot from the heavens.
I saw all the hope drain out of winged little angels.
Although the sky is vacant
And the trees are bare,
I can still live for the day
The birds return.
I can tell everyone else does too.
I can tell by the countenances on their faces.
Despite their dulled eyes
And monotoned voices,
The way they wake up
Each and every day.
I know they still have hope.
We can still hope.
The devil can't take that away.
But we're still just hoping for
A time that will never come back.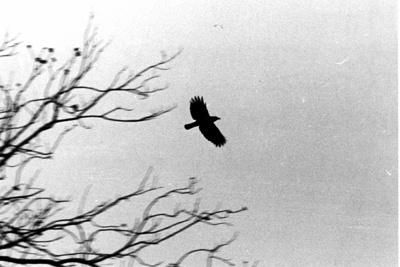 © Jacqueline T., Flowermound, TX