A Single Loaf of Bread
March 15, 2010
As she stepped through the door,
everyone turned to stare.
She hated their looks,
but they didn't care.

They didn't trust her,
they never would,
they didn't like her,
but there she stood.

With her black combat boots
and her old shredded jeans,
she didn't look
like the other teens.

She hated the way
they'd always turn and stare,
but she said nothing,
she didn't dare.

Her heart beat wildly,
her head grew numb,
and she knew they expected
the worst was to come.

As she swept through the aisles,
she didn't look down,
she wouldn't give them satisfaction,
they couldn't push her around.

As everyone stood,
and watched the poor girl,
nobody noticed
the front door give a swirl.

In walked a woman
plain as can be.
Everyone turned and thought
'Oh, she's normal, like me!'

She flipped her blonde hair,
everyone looked away.
She chuckled and smirked
and went on with her day.

The people turned back to the girl
who was in the same aisle.
And when they finally turned away,
she couldn't help but smile.

A few hours later,
the plain woman was done,
as she walked out the doors
and broke into a run.

The alarm grew louder
as the crowd turned around.
They thought it was the girl,
who had caused the loud sound.

What they didn't expect,
when they glanced out the door,
was to see that plain woman,
pinned down on the floor.

They stared on in shock
as the police gave a pull.
They stuffed her in their car,
and returned the items she stole.

The crowd turned away
and eyed the girl at the lane
as she paid for her items
and walked on without shame.

"I'm sorry, I'm sorry."
Many people said,
but she ignored them and left
with a single loaf of bread.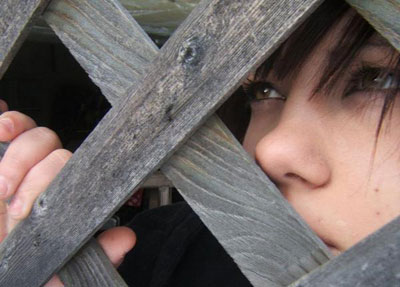 © Krystal B., Bloomingdale , IL