Her Flavor Is Black Cherry
March 13, 2010
For the people who don't understand, let me make things clear.
He twisted her arm and made her scream.
Heartbreak was inevitable at this moment. Her mind was numb.
And time had come.
With no warning signs or a place to hide,
She danced along the rim of his teeth, playing hard to get.
Her mind thought once never thought twice.
She smacked him back to the future.
No truth rolled from her tongue.
All lies.
Her long hair pulled out from her roots.
Cut to a short length. Her stomach growled.
And now she envied all that was lost at this moment.
And the moon came out. Nothing to feel but only delight.
He then fought to make himself a mystery.
She fought to solve his so called history.
Rhymes fell out of her mind. There was no rhythm.
A dark liquid oozed from her heart. A particular taste.
Sweet and tart.
No rhyme or reason. Picked at random.
And then she thought this liquid would go swell with some wisdom.
She opened him up like a fortune cookie.
Cracking his sweet shell and finding the truth that sits inside.
Its something she already new. Its something that she had heard before.
But she needed to hear it from him.
She washed it down with a milkshake flavored black cherry.
Smooth and dark. The deep red grows brighter until it flows down His cracked skull.
It drips to the ground and makes a pool around. Red.
She denied the fact that she bashed his mind.
He tried to hide the reason or rhyme.
She fought him and obviously won.
She fought to find out why he had come.
The road is short and it's coming to an end.
Mysterious as he seemed.
He was easily solved.
The taste lingered and she felt satisfied. Her mind created an addiction.
Abusive behavior the attraction.
Dangerous and weary she fought to remember.
But could never.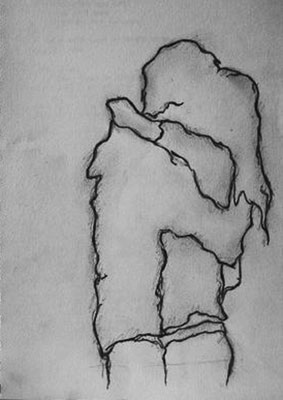 © Nicole B., Newcastle, WA