Warping Wood
March 13, 2010
He knows he is the master of his life
and he can control everything
like a contemplating painter at canvas
but his life is in watercolors
and he has been left out in the rain

Wandering comes as easily to him as
a compass that can't find its way north
he cannot find his way
and it has been like this for too long

the connecting trains
connecting flights
always feeling the spark but missing the connection
connecting to people like connecting the dots,
a long line of the races and religions and human beings
he has touched

but he knows a connection is not just feeling someone;
it's not bringing a colleague
a friend
that cute person from across the room
into one's arms.
As soon as there is contact,
people disappear
and all that is left are lonely lumps of flesh
filled like sacks of grain
but with organs.

A connection is looking into eyes as pretty as anything,
like the ocean or a river or trees,
and knowing that two people are no different from each other
that, despite those circumstances
like he's on the football team
and she's writing poetry
and everyone is always "close" but never "CLOSER"
two people
both have ears and fingernails and hearts,
so biologically and chemically similar that differences shouldn't matter
and the life you lead and the divisions you create
make life look like a practical joke.

Just a joke

He sees a girl across the way at the bus station
and every atom in his body is pushing
every neuron cell is firing
every thought he has is screaming to
STAND UP
and
MAKE A DIFFERENCE,
stop playing hide and seek
stop waiting for the metamorphosis of red and green traffic lights.

He looks.
He remains.
He remains still as the world moves around him.
Then by some ethereal miracle like angels were tickling his teeth
he opens his mouth
only to close it a second later.
He is an American
complete with the freedom of speech
but he knows the right to remain silent can be just as powerful

and he watches her walk away.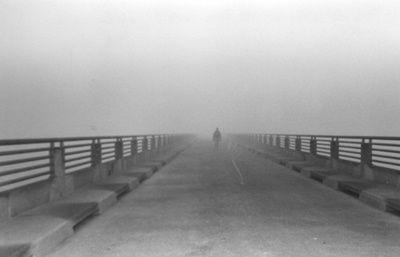 © Becky G., Westerville, OH