I Sit and Eat my Cotton Candy While aKid Vomits in the Garbage Can Next to Me
March 13, 2010
Giant cotton candy,
Greasy elephant ears,
Sugar-coated funnel cake,
Super-sour lemonade.
The Ferris wheel turns,
My stomach churns.
# # #
The Octopus is looking mighty fine,
Or maybe I should give a go
At the Leprechaun's Luck.
The Plunger is looking mighty terrifying,
And Tremors is shaking,
Standing up to its name.
# # #
I sit on a bench
In front of the Egg Scrambler.
When the last egg comes out,
It was clearly over-scrambled
Or maybe even over-easy.
Whatever it was, it was not Sunny-side Up.
# # #
He shouldn't have gone
To the all-you-can-eat
Burrito shack before he rode.
I'm pretty sure the
Burritos didn't taste
That great the first time.
# # #
He must have liked them the first time,
Because he went ahead and tasted them again.
Only this time,
They ended up in the garbage can
They just had to put
In front of this particular ride,
Next to this particular bench,
Where I just had to sit.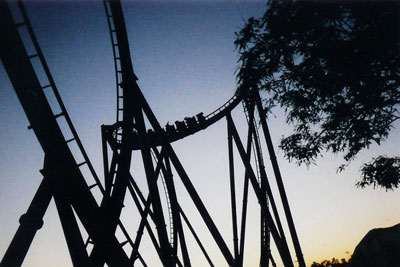 © Aaron S., Shelby, NC