Honor
March 8, 2010
In the day you hear marching,
At night awkward silence.
The next day your friends are gone,
No note that they left behind.

The next day you hear marching,
No awkward silence tonight,
You hear banging on the door,
A solider ordering.

The children are crying,
"Mama, Papa, what do they want?"
You try to stifle their cries,
The soliders march on in.

They give you little time to pack,
All the while they stare at you with evil eyes.
Onto the street you are taken,
Into trucks are you packed.

To the stations you are sent,
Like cows shoved all together.
The wind is cold,
The night is terrifying.

You arrive at a transition camp,
You pray that you will stay.
For there are worse things,
Beyond this camp.

Your name is called,
And forward you step in line.
To the camps of no return you are sent,
You are sent there to die.

The children are safe in transition camp,
But you move on to worse.
You pray that God deliver you,
And try to stay alive.

You reach the camp,
You smell the stench,
Of rotten decaying corpses,
And you feel the ashes fall upon you.

You are forced to remove your clothes,
Wedding rings are taken,
No more husband will you see,
You pray they spare him.
Piercing strikes your arm,

As the needle breaks your skin,
They brand you with a number,
You are theirs now.


To the barracks you are taking,
Shoved in like sardines,
No life or love to be found,
Just unanswered prayers.

You work all day,
And stand forever,
No food or water really,
And terror rains freely.

People leave daily,
And never return,
You know that their end has come,
Are you ready to accept that?

You pray that God will send the British,
That salvation is near,
You hear the soldiers cry in German,
"Sie sind hier!" (They are here).

Salvation has come,
The prayers are answered,
Now all that's left is,
To find out who is left.

Home you make it back,
And try to find your loved ones,
The children were saved by the British,
But what about your husband?

You search the names forever,
Trying to find where he is,
You find his name,
The red line of death marks him out.

You find someone who knew him,
They tell you how he left.
No comfort can be found for you,
The tears come down no matter what.

He died with honor,
And with God in his heart,
He starved to death,
His food went to the children.

He saved four lives,
With his food,
His kindness too,
The children are grateful.

God answered his prayer,
That he prayed every night,
"Lord if it be your will take me in sleep",
And in sleep he was taken with a smile on his face.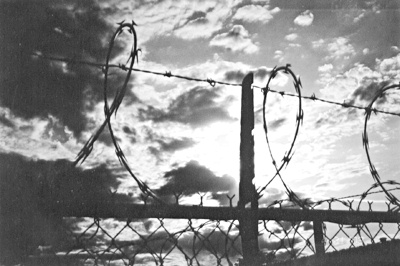 © Jessie W., Wichita Falls, TX