Time Out
MAG
March 12, 2010
Sometimes, I call time outs.
I put down my trigonometry test,
Silently – without notice – sign the hall pass,
Skim my fingers against the touch
Of the cold, smooth metal lockers
And asylum-white limestone walls,
And walk 'til I can't walk no more.
Father Time forces the pen back in my hand.

I'm so tired. Tired like the businessmen
In their navy-black suits, click-clacking
Down the boisterous Manhattan streets
With a mocha in one hand and a tax return
In the other, a night's rest a cubicle fantasy.

Sometimes I cry. But not often.
Not until it's two o'clock in the morning and
My phone's still buzzing with the sound of
His dream-breathing dim on the other end.
I'm still typing my English essay on my
Scratched-up Mac laptop, slow from hours
Of me trying to think of just the right words
to say, just the right way to say them.

Then, I'll let a single glistening tear drop,
Fall proudly, yet shamefully, and trickle
Down my forgotten, too-pale cheek.
I'll hang up the telephone, make sure that
No one can hear me.
I sink into my covers in the starlit darkness,
And fall into a deep, restless sleep one night more
Dreaming of bugs and needles, and
Big letter F's, branded on my forehead in blood-red,
And people who just don't care.

They tell me it's just a dream. You'll be all right.

I wake up with eyes wide open, tender with fear.
According to the clock, it is four-thirty. Early.
Yet my alarm has for too long been ringing.
I relax, sigh, take a deep, long breath, first of the day,
And open the window wide onto my bedroom view of
Littered cement sidewalks and small,decaying houses.

I work out my anger in gym, run it away
Until all that's left, a scar forever etched into my soul,
Is sadness. Loneliness. Even the tiniest glimpse of despair.

I head to the bathroom and lay my head next to
The "f*** you" scribbled optimistically in red pen
On the bathroom stall wall, a message to the world.
The sound of a toilet flushing, a girl leaving the room,
Threatens my safety and security. I feel a bead of sweat.

That's when I call a time out.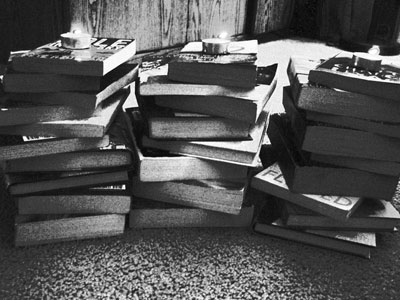 © Alexis R., Clarkdale, AZ