Distance
March 16, 2010
I know you have to, but don't want to leave.
We both just want for the other to be happy,
and I know this will be the best thing for you.
Don't worry about me, I will be fine.
Just climb into your truck, drive away.
"Drive careful, I love you, and I'll see you soon."

But when do I see you? Not soon
enough for me. I want to leave
here and fly away.
With you, of course, to finally be happy.
If we're together, everything will be fine.
Please, I just want to be close to you.

Last night I broke down and called you.
You told me, again, you would see me soon,
and when I asked how you were, as always, you answered, "Fine."
That's great for you, but I'm not fine. You had to leave.
I understand. When can you come back, make me happy
again? I hate when you're so far away.

Last week I jumped into my car, drove away.
Away from my family and friends, just to see you.
Your face lit up when you saw me, and we were finally happy.
Happier than we've been for weeks. I'm glad I could see you so soon.
But the dreaded time came, where I had to leave.
Tears burned my eyes, but when you asked, I had to lie, had to say I was "Fine."

But you knew. Knew that I wasn't "fine."
Though what could we do? So I got back into my car, drove away.
And then I knew how hard it was, being the one to leave.
But being left is hard, too. And you know I hate hurting you.
You tapped on my window, blew a kiss, mouthed "See you soon."
As I pulled away, I felt bittersweet. Heartbroken, yet also happy.

There was a time we felt we'd never be happy.
A time we felt we'd never be "fine."
But that time passed and soon, very soon,
you were in my arms, never far away.
You're here with me now,
I'm so glad you'll never have to leave.

And I'll never again let you leave.
Now and forever, "I love you."
Finally, you're never far away.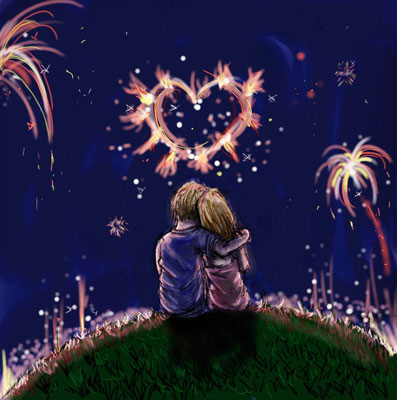 © Carissa G., Aberdeen, WA