Car Crash
March 11, 2010
Crunch curls shift,
slick and brittle in the rearview mirror and
head comes along.
Lips are parted, cigaretteless for now,
breathing in cold from the window split.
And.
Words come out of them, short ones.
Staccato conversation-cutters.

Hands on the wheel, long.
Tapping out Morse code messages on the leather.
From the speakers:
def—
i—
ant—
beat.
Speeding along.

Cop lights soon,
washed all out by the rain and not so loud.
Boots on the brake.
Contraption skids-- -- --
seashell ocean echo in the air like whispers.

The metal trips,
arms creak into rigidity and
face goes long as time travel
occurs inside it somewhere.

Then, loudness.
Things, organics, compact. And
they're all malleable.
Suddenly.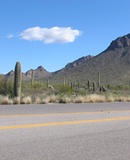 © Aleksandra K., Tucson, AZ