A Rollercoaster Rids
March 10, 2010
A hit of adrenaline rushes through you,
an idea that just might do.

As you go up and up,
a letter begins to form.

Sooner or later,
a paragraph forms.

A twist that makes you swirl,
could be unexpected.

But when you recover,
you start to discover.

The ride keeps going
and you never know when it ends.

Finally the car gets back into the station,
and a sense of relief over floods you.

The pen falls onto the table.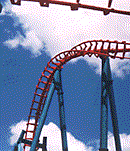 © Kristin L., Utica, NY