New Mexico--My Home
March 10, 2010
I live with somber mountains due east,
Different shades of purple fighting for prominence
Indigo coloring the shadows, white speckling the peaks,
Breathing mystery, excitement, foreboding.

I live where the beautiful blue sky of one moment
Swiftly changes to an ominous sensation,
A sweet smell, an electricity in the air
Which culminates into a booming thunderstorm.

I live where I can look one direction and view
Buildings, offices, homes,
But in the other direction
Stretches desert as far as I can see.

I live where two cultures clash and combine
Each having prominence in my life
Where the close-knit family ties of one
Complement the fast-paced lifestyle of the other.

I live where rattlesnakes strike,
Chili peppers flourish,
Cactuses prickle,
Roadrunners race.

I live in a land of the free,
Where I can Live,
Speak,
And Worship without fear.

I live in the land of Enchantment.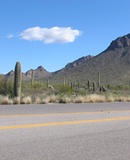 © Aleksandra K., Tucson, AZ