A Warriors Fear
March 6, 2010
There he is with all his might,
He fears no foe, and feels no fright.
He hacks and tears,
Two swords he bears

He deems the love of what he does,
And cant be beat, only honor is brought.
He claims the land for his clan,
And retreats into thy tent.

A time for sleep
For he is weak, yet does not know what waits.
Eyes shut, mind clear,
He ready for what awaits?

Shivering cold, yet t'was warm
Does he fear no foe, does he feel no fright?
A fear he has, one he cannot fight,
He throws his fists, but missed and missed.

Can't wake up, eyes are locked,
For he is lost, and does not stop.
He fight's the air, and blackens the night,
Comrades shocked, and fear to wake him.

Overwhelming fear
forces his first tear
Could this be, a fear at last?
Is he defeated? The comrades ask.

Finally, wakes from his slumber
Everything he can remember
He hangs his cloak, and breathes a sigh
A feign at hand, he doth want to fight

T'was dawn he steps outside and takes a breath of air.
An arrow at his chest.
"A traitor amongst us?"
Or honor among the thieves?

Was fear, his fear?
Was no use for a clan of fearless men?
This was his fear, a warriors fear.
A dream where only a warrior fears…
Betrayal.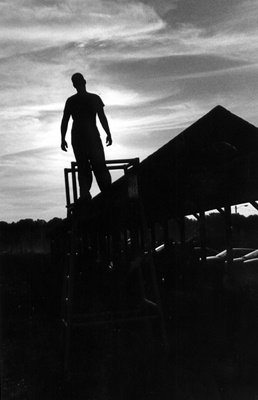 © Brianna L., Marblehead, MA