The Sea's Payment
March 4, 2010
The stone, the pretty, petty pebble
Twinkling at us all
Sat for years atop the beach
Hoping it would never fall

Into the perilous
Ocean blue
That tempts people
In with a silent coo.

While flirting her shine,
Her sparkle, her shimmer,
Wishing that she would
Never grow dimmer

This rock, this pebble
Made enemies of many
And many a fellow
Pebble as she shone,
Bright as a penny.

Until the day a child came
And gave her to the waves,
In hopes that a mermaid
Would lead her to rich caves

Filled to the brim
With jewels and jade
But all she got was
An unfair trade

Yet as that stone was toppled
And kicked from her mighty throne
The only solace she could take
Was that she was alone

For to drag another
Deep down to that pit
Of sadness and despair,
She could never bear it


And even as she felt the surge
Of wet, harsh, freezing ocean
Drag her deep down to the bottom
She cursed the race of all men

As the waves engulfed her
And claimed her as their own
For all of her vanity
She wished she could atone

How she screamed, how she cried
As she was thrown from way on high
And as she settled and as she sighed
She knew her hopes were merely dry

For she was made
Not for stillness and lying
But for sunshine and light
And being here was a fate by far worse than dying.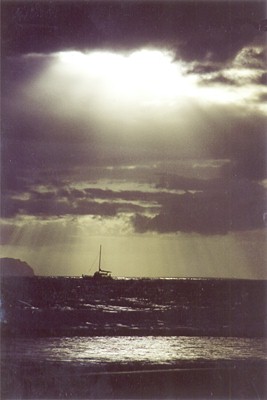 © lily H., Kekaha, HI