Music
March 3, 2010
It was a Tuesday morning when the boy got the call.
He hadn't heard from her in weeks, and
He needed her like rain in the desert.
These weeks had been long and hard.
He picked up the phone with relief,
But was soon surprised.
"It's over," she said. "We made a mistake."
How could she want to separate?
Didn't she miss him too?
A dagger drove through his heart -
She was being serious.

Tears formed rivers on his cheeks.
They refused to cease;
Ostensibly melting the seconds away.
He wasn't sure how long it had been:
Days? Hours? Minutes? Longer?
Nothing mattered anymore,
So the tears continued to fall.
He missed her already.

His mind drifted to joyous memories:
Watching the sunrise over the lake,
Dancing in the street,
Walking through the park,
Kissing in the rain,
Her hand lacing through his,
A permanent dimple on her left cheek.
When had he ever felt so alive?
The memories grew painful.
Never could he forget her soft touch;
It made his heart soar.
The boy needed her more than air.

Why did she go and change the perfect scene?
Where had they gone wrong?
So many questions lacking answers,
So many things he needed to know.
The abrupt ending did not make sense.
He thought everything had been going fine...

No use wallowing, he thought.
Self-pity hadn't fixed things in the past.
He would get her back...
But how?
Another painful trip down memory lane
As the flashbacks began.
Music.
She loved music.

So he'd write her a song.
An intricate melody,
She as the subject,
Destined to win her heart.
The music would move her,
Make her dance,
Bring life to her eyes.
The boy could sense it in his gut:
It wasn't over yet.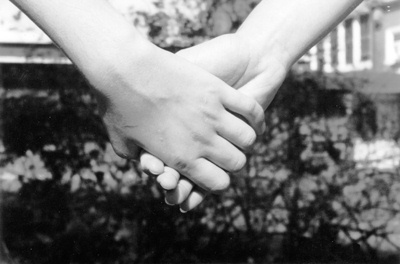 © Lauren G., Pompton Plains, NJ