As Colors Entwine
March 3, 2010
Satins and silks caressed my body as I writhed in the feel of it all.
A single drop of spilt wine created a misplaced rose petal amongst a blanket of snow and soot.
As I compose myself I stare at it and recall the memories of the night before.
A little girl stares at a mysterious flower that she has never seen before.
She begins to walk towards it but it begins to get further away.
So she begins to run.
She runs harder than she has ever ran before.
The girl feels herself getting closer as she pants and sweats.
As her fingers touch the stalk,
It and her begin to melt.
And soon they were nothing but pure color.
Pure color illuminated by the darkness of the night.
At last,
She could be with him.
Her only flower.
And they,
As colors,
Began to dance in the night.
Spinning and entwining with such passion that only they could be left in this world.
Then,
at the most seemingly insignificant moment,
the spinning was faster.
They began to entwine in such a way that they were no longer seperate,
but one color.
They began to glow.
The glow was then so intense that they began to radiate the light of a thousand suns.
And finally,
They exploded and light once again was there,
And land was there,
And we were there.
He my flower,
And I his golden light.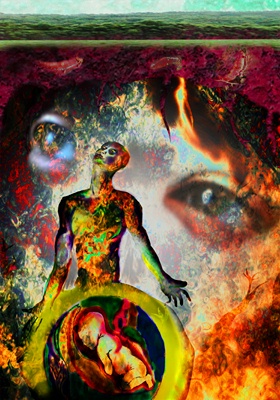 © Tom M., Philadelphia, PA