World On Your Shoulders
March 3, 2010
The world could be placed on your shoulders,
It would destroy the perfect curve that your
Pillow lays tangent to with your hair twirling
Beneath the straight edge it's been cut at,
They say I got no imagination,
I say they find someone else to lay the blame on;
No one asked to have green eyes to the depth of emeralds
Or blue ones that dive to the bottom of the ocean
Or even grey ones, they're not boring - they diminish the stars.
No, no one asked.
So what if your single left eyebrow raises at the
Sight of my mixed up numbers and twisted sentences,
So what? I didn't place that load on your shoulders,
No I just watched from my chair, three rows behind.
Three rows, and a couple inches over.
I noticed that your hair is cut unevenly at one end...
Or does it refuse to fall the way you brush it?
And I caught a glance of the dusty fake lights in the room
Reflected off the smudged glass placed in front of your eyes.
I never placed the world on your shoulders.
I got no imagination.
You got my eyes, and I got your words but I'm not sure
What to do with them.
I can't throw them around, with all that poetry and science,
It would be talking in meters and measuring in rhymes.
You got my smile, and I got your laugh.
And I think I'll live when you roll your shoulders back and
The world falls tumbling back down into the atmosphere again,
i think I'll stand.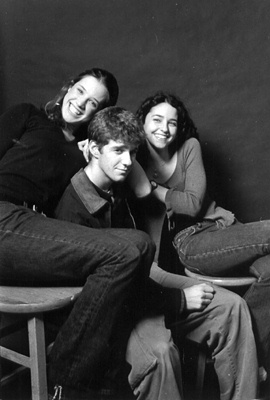 © Samantha F., Marblehead, MA