Memoir
March 3, 2010
There I lie awake
Not sure what is in store
Future is unpredictable,
The present in ignorant,
And the past is repetitive.
A repetition
That was not apparent to me,
Repetition that cause a betrayal
Between family.
I "awoke" confused
Tales of weird dreams I tell,
To cover a truth
I prayed to be false
I sheltered myself.
Locked in a room; I cried.
Safe from betrayal
Emotions so raw.
So captivating
I got lost in my mind
And memory.
I searched for a distraction
Stubborn my mind stayed.
I awakened to dawn
And was weary about escape
I planned my excuses,
My future lies and schemes.
I put on a mask
And made myself ready to betray.
I lie smooth
And act cool
Fore my sanity depends.
My savior enters the door
Ignorant and oblivious
I keep my mask
As my heart urges to tell.
I ask of home coming
As a strangers house I am now in.
The ride is silent
And the mask starts to dissolve
As I hold tears with all my might.
I get home as I am near the point of break
I try to hold back an angry sorrow.
I walk in, my mother
Asks me of my time in the house
That unaware is she
Has become a strangers home.
I lie and say it was fine
As I pause I contemplate.
Do I tell her the truth?
I do.
She sheds a tear
As she opens her arms as an invitation.
I weep in her arms
A storm from my heart.
She soothes me with her wisdom
As my brother enters the door.
The news of betrayal
Sets a fit of rage upon him.
He settles down and asks if I'm okay
A shrug on my part
As I know not what to say.
The feeling of sympathy emanates
As they look at me,
With tears streaming down my face
My sudden intakes of breath fill the silence,
My mother comforts me
With her undying love,
And though it is not settled
I feel comfort in my mothers arms.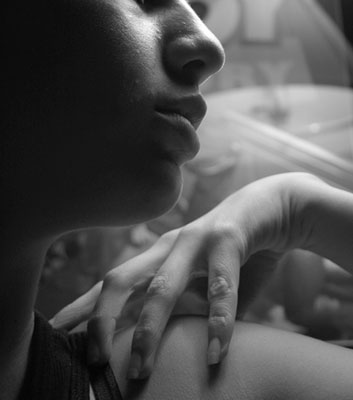 © Rebecca B., Santa Clara, CA