My Sunshine
March 2, 2010
Sunshine
Sunset
Waters of red.
The flowers must bloom
before they are dead.
Seaweed on sand
with waters so mellow
Let the sun sleep as life becomes yellow.
But as the waves recede
and the sun says goodbye
the moon appears and the sea has no reason to cry.
Because with the moon's departure brings a new day
The sun rises and the sky is no longer gray.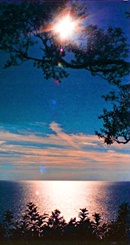 © Crystal B., Gresham, WI