Die Happy
February 24, 2010
Tell me you love me, tell me you care; kiss my forehead and play with my hair.
Take me for walks, hold my hands; and tell me someday we'll own our own land.
Tickle me silly and make me laugh.
Help me do the dishes and give the kids their bath.
Give me flowers and gifts for no reason at all, tell me you'll never leave me no matter how hard we both fall.
Sing me to sleep and shake me awake, travel with me to an extraordinary lake.
Take me out and bring me back in.
Hug me tight and kiss my chin.
Buy me things I don't really need, tell me when something's wrong and I'll take the lead.
Cook me breakfast and love me so; As I will promise to never let go.
Take me to a park and we'll fly a kite; and then we'll climb trees to an unreachable height.
We'll lay on the grass for hours and hours; then laugh at your face when you eat something sour.
We'll watch the clouds form funny shapes; and watch our old plays our parents taped.
We'll go for walks and look for places unknown; then watch as you lay laughing in the snow.
I'll lay awake and watch you sleep; then realize slowly you're mine to keep.
I'll fall asleep to dream about you, until the very day that we are through.
I'll be stuck in time as the memories fade; and I'll die slowly as you stay made.
You'll be sad, but move on in time.
But I'll die happy, knowing you were mine.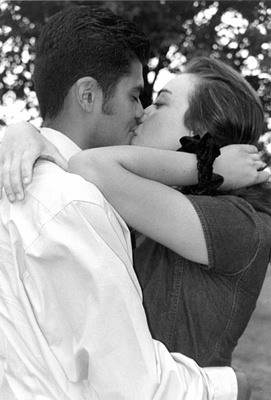 © Yaniris M., Boston, MA