True Beauty
February 26, 2010
A golden sunrise
A joyous friend
Some twinkling stars
Some helpful smiles
All of these are beautiful
Scan the world with your eyes
And that's what dictionary calls beauty.
However, look with your hearts
And you'll see beauty is indefinable.
The glowing moon
The cheerful cries
A few fluffy clouds
A few warm hugs
All of these are beautiful
Even if you see all the sights
You have yet to see all beauty.
If you feel your heart
Then the search for beauty is over.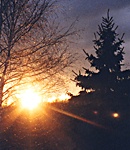 © Christy S., Germantown, NY