An Inevitable Truth
February 19, 2010
The world around me is constantly changing.
Wherever I go….
deceit,
and lies,
holds human nature within its palms.

Evil acts as a puppeteer
to its naive audience.
Just as a baby is born
with no sacrosanct secrets,
no lousy lies that stain teeth charcoal black
because of the vulgar words that have not yet
been spoken by the babe.


Malevolence behaves indiscriminately
to his victims
but holds a deep secret
within.
Some say it
causes pain,
and sometimes
even...
heartbreak.
A caution sign
is nowhere near close to describing the
evils in this vast, wide
world.

Am I trapped?
Am I suffocating?
Or am I just…
Mad?
Why do I feel this particular way?
My heart lurches
at the thought that the phonies
in this world would simply disappear.
I need air!
Help me!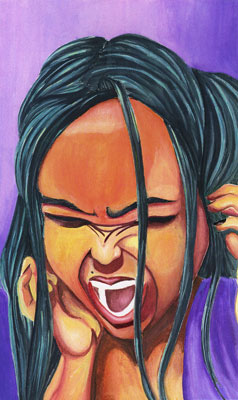 © Kriztille J., Briarwood, NY