Painted America
February 10, 2010
the paint is cracking
it's nothing too obvious just
little spindley zags racing across the whiteness, width of a spider's leg, scuttling
across the length of the window ledge
my mother is embarrassed
she looks at the wall shakes her head
we need a fresh coat she says.
(there isn't money.)

there are black dapples dotting a line below the crack
where our kitchen chairs have scratched their itchy backs
and left signatures behind on the wall
she complains, tries to cover the marks
we have to get a fresh coat she says.
(there isn't money.)

why are you sorry there isn't money to fix what isn't broken
when your plate is full when your mind is fed?

the paint is cracked
the doorframe is splintered
the windows bashed in the front steps obliterated
built by the hands of a tuskeegee airman
whose government sent him in the sky overseas to die
but could not dispatch a helicopter to lift him from the hell of stormwater
as he screamed from his roof in late august '05.
upon the yellow facade of that oppressed house
black slashes from an aerosol can
from a teenager from a dream deferred
"Bicth."

don't bother with a fresh coat of paint
flashing a toothy smile over the problem
the cracks are there because the wall's crumbling beneath
obama is a pleasing new color can he
fix the foundation under his feet?

"Bicth."
for shame, america,
at least teach your youth how to spell their anger.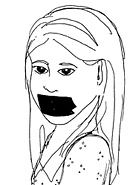 © Liza M., Vineland, NJ