Dear Anxiety
February 10, 2010
Dear anxiety,

I went to the psychologist today
and was diagnosed with general anxiety disorder.
It all fits:
the tense muscles,
the unremitting irritability,
the insomnia,
the visits from murderers in my nightmares,
the indefatigable worry.
I finally understand what my problem is.

It's you.


Dear anxiety,

Your poisonous tendrils
wrap themselves around
my panicky, thumping heart
and squeeze it until it almost stops.
If I was ever able to pry them apart,
I'm sure they would leave permanent bruises
in the ugliest shades of olive and mauve.

(Let me go
let me go
let me go.)


Dear anxiety,

I have a ten ton weight resting
on my taut, rigid shoulders thanks to you.
My heart always knows your presence,
trembling uncontrollably
with your mere suggestion.
Thoughts chase each other
throughout my mind
and tangle themselves into
an intricate, jumbled mess
until I don't know what I am thinking anymore.

See what
you've done
to me?


Dear anxiety,

I discovered the reason
behind why you've stuck
with me all these years.
You've been there for me
since day one of my existence
when I was born too early
and only a pound and a half
of skinny bones and fragile, discolored flesh.
Surrounded by beeping monitors
and stabbed with intravenous needles
for nine weeks before I could escape the chaos,
that is where you first discovered me.

Now I'm not
so sure I can tell
you to leave.


Dear anxiety,

Two months
since I was granted medication
to relieve myself of the burden of you,
I still can't let you go.
You're a constant presence
in my now peaceful, serene mind,
tormenting me with vivid hallucinations
of fear and dread like I had once known.
You take advantage of my
every weak and vulnerable moment.

When will you
ever let me
rest in
peace?


Dear anxiety,

I want to walk among the stars
and soar among the heavens
but you won't let me.

It's time
I've learned
to live
without you.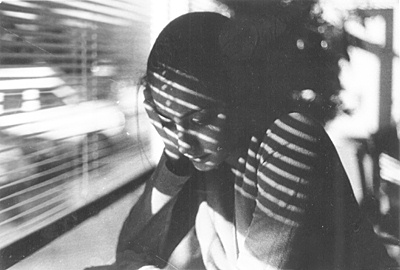 © John O., New City, NY